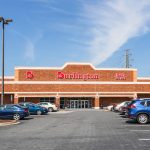 New Jersey-Based Off-Price Retailer Sees Opportunities Created by Pandemic
Contrary to many other retailers, off-price chain Burlington Stores, citing opportunities created by the coronavirus pandemic, still plans to "aggressively expand" its brick-and-mortar fleet.
The Burlington, New Jersey-based company Thursday said it now expects to open 62 new stores, while relocating or closing 26 stores, for a total of 36 net new stores in fiscal 2020. The company opened three new stores in the second quarter alone, bringing its total up to 739.
But that's just the start of growth plans for Burlington, company officials said during a second-quarter earnings call, during which they were undaunted by the impact of COVID-19 on sales. Like many retailers, Burlington's revenue took a hit from pandemic-related store closures and problems refreshing its inventory. Total sales decreased 39% to $1 billion in the three months ending Aug. 1 compared with the year-ago period.
"We do expect that post-pandemic, sales are going to normalize," Burlington Chief Financial Officer John Crimmins said. "And we expect we'll have a terrific opportunity to add to our market share driving comp sales, and we're going to continue to aggressively expand our fleet of stores."
CEO Michael O'Sullivan also saw a silver lining in the outbreak.
"We believe that the COVID-19 pandemic is likely to create an even stronger consumer need and desire for value," O'Sullivan told Wall Street analysts. "And it's also likely to increase the number and the pace of competitors' store closures. So if both of those things turn out to happen, then the pandemic could actually increase the longer-term market share opportunity for off-price."
A key part of the "Burlington 2.0" strategy during the next couple of years is store expansion aimed at driving store productivity and economics, according to O'Sullivan.
"Over the last few months we've been doing a lot of work, our real estate team has done some terrific work, sort of planning out the next few years from a real estate point of view. … I feel like given what's happening in broader retail, we are likely to see significant additional real estate opportunities open up, which we will be able to take advantage of maybe as soon as late 2021, but certainly we would hope in 2022 and 2023," he said.
The CEO, the former president of off-price giant Ross Stores, also maintained that Burlington has an edge in the off-price sector.
"As we've discussed on previous calls, we're the smallest and least profitable of the major off-price retailers," O'Sullivan said. "And because of this, we believe that by executing the model more effectively, we can drive significant growth in sales and profitability over the next several years. In other words, we believe we have significant upside potential."
In March, Burlington surprised some in the retail industry when it said it was pulling the plug on its e-commerce operation to concentrate on its brick-and-mortar locations, expanding its physical footprint. That's still the plan.
Burlington has postponed some store openings. Two additional stores that were originally planned to open this year were shifted out to fiscal 2021, "due to site availabilities outside of our control," bringing the total number of stores delayed to next spring to 18, Crimmins said. In May, Burlington first said it was delaying some new store openings.
In the third quarter, Burlington plans to open 37 new stores, with seven expected closings or relocations, according to Crimmins.
At the end of the second quarter, 11 stores "were temporarily closed due to a variety of factors, including five stores that sustained damages that will reopen over the next several months, three temporary COVID-related closings and three stores closed that are associated with our store-relocation strategy that are reopening later in the fall," Crimmins said.
For more information about South Jersey retail space for sale or lease in South Jersey or about any other South Jersey properties for sale or lease, please contact WCRE at 856-857-6300.
Wolf Commercial Real Estate, a full-service CORFAC International brokerage and advisory firm, is a premier  South Jersey commercial real estate broker that provides a full range of South Jersey commercial real estate listings and services, property management services, and marketing commercial offices, medical properties, industrial properties, land properties, retail buildings and other  South Jersey commercial properties for buyers, tenants, investors and sellers.
Please visit our websites for a full listing of South Jersey commercial properties for lease or sale through our  South Jersey commercial real estate brokerage firm.