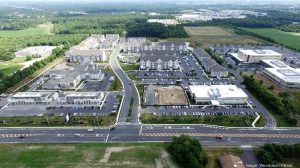 As the retail sector faces its Covid-19 reckoning, a mixed-use project that's nearing completion in South Jersey is changing plans.
Developers behind the Washington Square Town Center — a long-in-the-works residential and commercial project spread across 35 acres in Washington Township, Gloucester County — already completed the construction of a 40,000-square-foot anchor building leased to the Rothman Institute, 330 apartments, 100 townhomes and an assisted living facility.
The final stage of the project, building three 10,000-square-foot standalone retail buildings, is now incorporating more medical tenants than originally planned. With the first two retail buildings nearly complete and already leased to a mix of retail and health care businesses, developers have announced that all 10,000 square feet of the third building will be dedicated to medical use. The majority of that space, 7,000 square feet, is pre-leased to Axia Women's Health. Developers recently broke ground on the building and expect to complete construction in spring 2021.
The decision is tied to a "sustained, strong area demand for medical office space," said Atkins Companies and Woodmont Properties, the two commercial real estate development investment and property management firms that partnered together on the project.
"As we have brought our Washington Square Town Center project to life, we have seen a significant increase in demand for quality medical office space in a retail environment throughout the area," Bob Atkins, managing partner of Atkins Companies, said in a statement. "Our Washington Square Town Center has quickly become one of the most sought-after locations for premier retail-oriented healthcare space. With increased demand from healthcare providers it only made sense to adjust our strategy to meet the needs of this fast-growing tenant population."
While the health care industry has struggled with declining revenue as patients put off elective or non-emergency visits during the Covid-19 pandemic, the retail sector has faced a more drastic impact. Forced store closings and declines in consumer confidence have accelerated existing trends in the industry, like the massive shift to e-commerce, and forced big-name brands like Brooks Brothers and New York and Company to file for bankruptcy.
Locally, retail vacancies have slightly increased since the pandemic hit, according to Wolf Commercial Real Estate's Q2 market update report. Gloucester County had a retail vacancy rate of 12.4% in the quarter, a slight decrease from the 12.7% it saw in Q1. Prior to the Covid-19 crisis, in Q4 2019, the county's retail vacancy rate stood at about 11.7%. Rents average about $14.21 per square foot.
The Washington Square Town Center was able to draw retail tenants to the two other standalone buildings, including Bison Coffee Company, Lavish Spa and Nails, and Jenaro's Trattoria Italian Restaurant. Medical-related tenants in those buildings include PetCheck Animal Urgent Care and Strive Physical Therapy.
Even before announcing the switch from retail to medical space for the final building, developers highlighted the project's focus on health care, saying it was building upon the township's strength in the medical field.
*Article courtesy of Philadelphia Business Journal
For more information about this South Jersey retail space or about any other South Jersey commercial properties for sale or lease, please contact the team at Wolf Commercial Real Estate, a South Jersey commercial real estate broker at 856-857-6300.
Wolf Commercial Real Estate, a full-service CORFAC.
International brokerage and advisory firm, is a premier South Jersey commercial real estate broker that provides a full range of South Jersey commercial real estate listings and services related to this retail space.
Wolf Commercial Real Estate also offers property management services, and marketing commercial offices, medical properties, warehouse properties, industrial properties, land properties, retail spaces and other South Jersey commercial properties for buyers, tenants, investors and sellers. Please visit our websites for a full listing of South Jersey commercial properties for lease or sale through our South Jersey commercial real estate brokerage firm