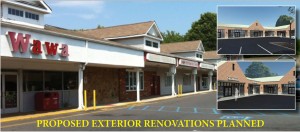 Wolf Commercial Real Estate (WCRE) is offering the premier South Jersey retail space for lease at 27 North Maple Avenue in Marlton NJ.
This retail space in South Jersey has 1,425 to 3,600 square feet available for lease, and the Allison Shopping Center ownership can create up to 19,000 square feet for a large-block occupant. The asking lease rate for this South Jersey retail space is $12 per square foot NNN and these units are available for immediate occupancy.
Major exterior renovations are planned and parking is abundant (6.5/1000sf) at this well-located retail space in Southern New Jersey . Located near the intersection of North Maple Avenue and the Marlton Pike (Route 70), the Allison Shopping Center also offers easy access – one block west – to Route 73.
An average of nearly 18,000 vehicles a day drive by this South Jersey shopping center for lease on North Maple Avenue and there are 85,000 residents living within a three-mile radius of the Allison Shopping Center.
For more information about this Southern New Jersey retail space at the Allison Shopping Center or other retail or office properties for sale or lease in Marlton, Southern New Jersey and the Philadelphia region, contact either Jason Wolf (856-857-6301; jason.wolf@wolfcre.com) or Leor Hemo (856-857-6302; leor.hemo@wolfcre.com) at Wolf Commercial Real Estate.
Wolf Commercial Real Estate (WCRE) is a full-service Southern New Jersey and Philadelphia region commercial real estate brokerage and advisory firm specializing in Southern New Jersey and Philadelphia commercial offices, retail properties and buildings for buyers, tenants, investors and sellers. Please click the links below for listings of South Jersey commercial real estate for lease or purchase or for information about office, retail or medical space for sale or lease from the Southern New Jersey Real Estate Broker.